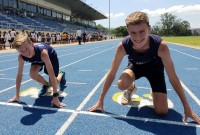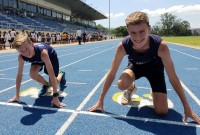 Laddsworth Athletics Captains Jamie Kloppers and Jonathan Werth took part in the KwaZulu-Natal Athletics Sub-Youth Championship at Kings Park Athletics Stadium in Durban on 12 October 2019. This is the KZN Athletics main event for the Sub-Youth Championships (7 to 15 year age groups). The results from this event will be used to select a Provincial team that will participate in the Inter-Provincial competition in November. This year, more than 650 athletes participated in the event.
Jamie Kloppers (Grade 7) won Gold in the 80m hurdles and came 4th in the 200m hurdles.
Jonathan Werth (Grade 7) came 5th in the 1500m and 10th in the 800m.
Well done to our Athletics Captains on their performances!